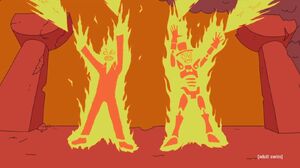 Superhell! is the first episode of season four.
Characters
Edit
Plot (overview)
Edit
The Warden, with the help of Ash, continue their arson spree across Superjail. Meanwhile, Alice and Stingray get lost on a planet full of vicious monsters.
The Doctor references that he wanted Jared's Head, a nod to Superfail!
Ad blocker interference detected!
Wikia is a free-to-use site that makes money from advertising. We have a modified experience for viewers using ad blockers

Wikia is not accessible if you've made further modifications. Remove the custom ad blocker rule(s) and the page will load as expected.