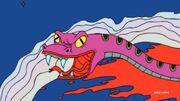 The LSD Snake is a giant snake created from
D. L. Diamond
's "space dust". The snake was only in "
Don't Be A Negaton
".
The snake spawned from an LSD Unicorn's head. It originally was the horn, but suddenly transformed into a snake. The snake then swallows Jared, who falls in a colorful swirly portal. The snake was most likely blasted by The Galactoids or just disappeared when the convicts woke from the hallucinations.
Ad blocker interference detected!
Wikia is a free-to-use site that makes money from advertising. We have a modified experience for viewers using ad blockers

Wikia is not accessible if you've made further modifications. Remove the custom ad blocker rule(s) and the page will load as expected.